Episodes of empty supermarkets and rising food and gas prices continue. Here's what Mario Draghi is about to do
The war in ukraine it has economic consequences also in Italy, which add to the already stated problem of expensive energy. In fact, some problems persist supply and the scenes that see the onslaught of some supermarketswith empty shelves.
Therefore, we expect to difficult economic situation, which certainly requires strong government intervention. So while the episodes of empty supermarkets and rising food and gas prices continue, that's it what Mario Draghi is about to do.
Rationing and emptying supermarket shelves, this is what Mario Draghi is about to do
The economic situation remains quite difficult, weighed down by the problem of supplying certain raw material, such as gasoline, grain and corn. If on the one hand there is the problem, on the other hand the situation continues to escalate also due to extremely excessive storytelling.
Therefore, the scenes of empty shelves in supermarkets and long lines at gas stations, with the intention of citizens refueling. In this difficult context, the the decisions by the government, which will have to face a new period of crisis.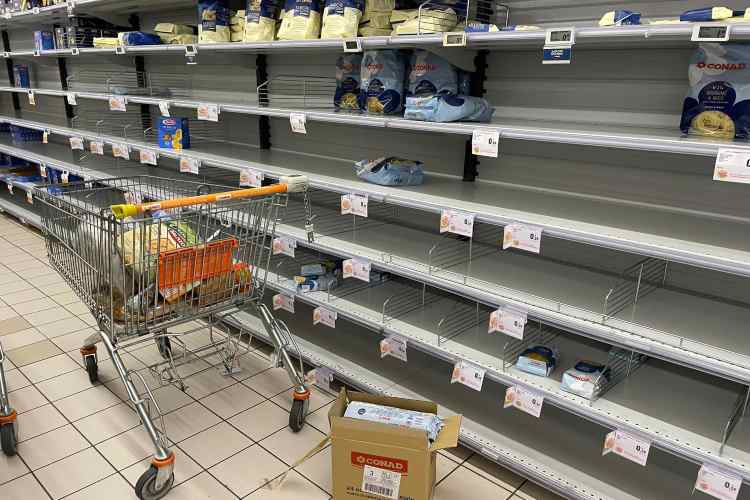 Despite the possibility of a real rationing of raw materials and products useful for the well-being and daily life of our country rather distantPresident Mario Draghi spoke about the importance of be ready cope with such a scenario.
In fact, the Prime Minister spoke at a press conference about those who will be medium and long term effects for our country because of the conflict in Ukraine. Among the certainties, in fact, there is a continuous lack of raw material and the excessive energy cost. To date, there is no danger, but it is the Prime Minister himself who speaks of "rationing logic" in case the situation escalates.
What interventions would require rationing
This would mean the need for some talks reduce the consumption of goods and raw materials, precisely at the heart of rationing. This means carrying out the rationing energy sources, such as gas and power. This would lead to a reduction in the time for switching on the heating and/or switching off the lighting in public offices and homes.
But not only, in a scene (to this day, let us repeat, quite distant) of rationing, there could be the to diminish the availability of certain products. We are therefore talking about witnessing a decrease in the presence in supermarkets of Products such as seed oil, bread, pasta, flour and other products from the Orient.
However, as the Minister for Agriculture also recalled, this situation seems to be the case today very farbut you must be prepared to avoid panic.