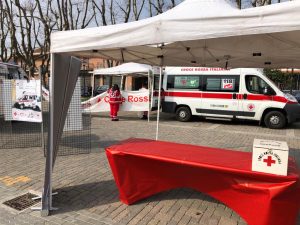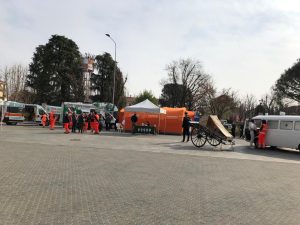 Great participation, great interest, great participation and consensus for a large-scale initiative.
"Health at stake" is the title of the event organized by the Department of Social Policy and Welfare.
Strolling through the large parking lot of Prato Fiera, the time of a car-free day, it was interesting to linger over the various posts: that of the Red Cross -Mappano Committee with vehicles and soldiers, the photographs in memory meritorious activity carried out during the pandemic period; that of our beloved Green Cross Turin Section Borgaro-Caselle, whose specific theme we treat in another page of the newspaper.
The activity of the AMS Mutual Aid Association, another meritorious association of Casella, which many know for having appreciated their activity of transporting patients to and from hospitals or treatment centers for diagnostic tests, is still exposed. . The excellence of a service appreciated by many users who, unable to use other means, find security and guarantee in transport.
The means of the Civil Protection of the City of Caselle, with the many volunteers in uniform… To their women and men an appreciation of the public, so much so that small groups of visitors here and there have also commented positively on the service received through the phone calls they have received, to families or individuals, affected by Covid, especially in this latest wave of the virus. A help that the Municipality, through the Civil Protection, wanted to offer for a better protection of its citizens.
In the afternoon, accompanied by a spring temperature that invited even more aggregation, demonstrations of first aid simulations took place, from the dressing and undressing of the rescuers to protect themselves from contagion to the se -called "drunkard's way", a demonstration of the danger of driving while intoxicated.
In the tent specially set up by the Green Cross of Turin, prof. The Senator, Head of Cardiology at the Ciriè Hospital, accompanied by his team, performed 120 electrocardiograms all day for those who showed up.
On another vehicle, a camper still installed by the Green Cross, Dr. Stefano Dinatale, with special technological equipment of his own, computers and mouthpieces, carried out the "spirometries", an examination to assess the proper functioning lungs.
The green citadel was very rich in attractions and included two ambulances that visited each other, one equipped to transport the doctor for (advanced) emergency rescue and the other with the new anti-Covid stretcher: a kind of bubble where the patient remains isolated and can be transported safely. Finally exhibited the famous "flying wagon", the first hand stretcher built in 1904 and donated by Turin railway workers to the Green Cross: with this masterpiece of mechanical engineering, pulled by hand by two volunteer soldiers, our great -parents ran to Turin to help the wounded under the rubble of bombed houses. A gesture, but not the only one, which earned the gold medal of civil valor for the resistance, awarded to the Green Cross of Turin.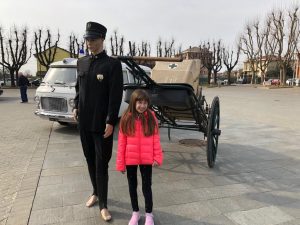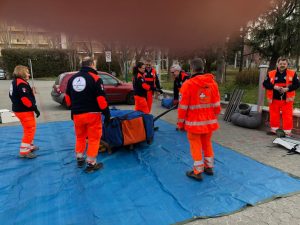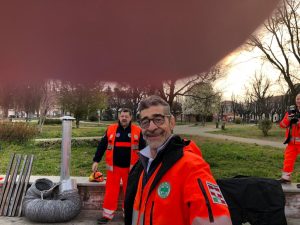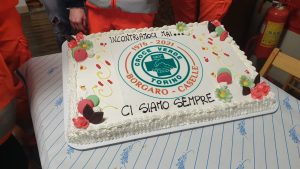 The final awards ceremony of all the participating associations could not be missed, with the congratulations of Mayor Luca Baracco and Social Welfare Policy Advisor Angela Grimaldi who issued the following statement:
"Health at stake" is the umpteenth step in a process that has been going on for some years and is based on positive actions aimed at preventing the onset of chronic diseases: a path created thanks to the collaboration of passionate and attentive local professionals, they devote themselves to others. During the day, 125 electrocardiograms and 40 spirometries were performed, with an orderly and continuous flow of people who approached these opportunities made available free of charge. In addition, in the middle of the afternoon, the Paralympic exhibition of boccia was organized by Rossella Vacante and some members of the Stella Polare Association: a sport that fully expresses the Paralympic spirit since it is the only one practiced by people with even severe or very severe disabilities. Important not only for promoting the social integration of those who practice it (both independently and with the help of supports or a technician), but also because it helps to improve self-control and the self-esteem of athletes. And a communication error, not attributable to the parties that promoted the day (and, therefore, to the municipal administration for the organizational aspect and to the doctors, volunteers and sportsmen for the operational one) did not enough to harm such an important and noble action for citizenship. The speakers (municipal administration, health sector, volunteers, athletes) took to the field, each according to their skills, their energy, their passion and their professionalism throughout the day. The dialogue and the candor were enough to clarify what could have become a shadow over such an important initiative, carried out at a delicate time when blame and responsibility even towards those who have neither seem to be become a popular pastime. Fortunately, thanks to the commitment of many people of good will, the day was a success and represented an important moment for the promotion of health and healthy lifestyles. »