Interview with the regional councilor for agriculture, who is also supporting our initiative this year: "Planting a vegetable garden is the best way to approach the subject, because it has to do with slowness, with seasonality, with the cycles of life and the difficulty of producing food, very important things to teach".
"It's a very positive initiative because it aims to promote the culture of food, which is not only about nutrition – what we put on the plate and what I eat – but how food is born". Thus the Councilor for Agriculture, Food and Green Systems of the Lombardy Region, Fabio Rolfi, describes our initiative "Let's garden at home", explaining why he wanted to accompany and support us also for this second edition. "Planting a vegetable garden is the best way to approach the subject, because it has to do with slowness, with seasonality, with the cycles of life and the difficulty of producing food, very important things to teach" , he adds. .
Rolfi: "We promote the culture of food and true sustainability"
The Region relies heavily on these initiatives, indeed this year too you launched the Call for Gardens to finance educational and social projects. How was it?
"It went well, because as every year we have more questions than funds available, this means that it is a promoted policy because year after year it always has increasing success. We must ask ourselves how to increase the resources, perhaps even collaborations with others In particular, we finance educational gardens, as in recent years we have involved all orders and degrees of education, registering the interest of teachers The relationship with the land and the environment is taking more and more space in the educational paths, so it is a policy that over the years has generated processes and participation".
In fact, schools pay a lot of attention to nutrition.
"It is a space that we have yet to fully conquer, in the sense that there is a growing interest in school canteen services but we are still far from making the school canteen an educational moment, and it is not perceived as healthy food. But we don't ask ourselves where the food comes from, perhaps connecting to production chains, making it a moment of sustainability education. Our goal is to work, to here at the end of the mandate, on the regional guidelines to be proposed to schools for better management of school meals, not only from a nutritional point of view, but by linking it to teaching and the relationship to the territory , so that it is also an opportunity for knowledge. a qualitative leap: by working on children we hope to empower the new generations".
Sustainability is a theme deeply felt by everyone. How is it applied in practice?
"Sustainability is not only an environmental issue but also and above all a social and economic issue. Agricultural activities are very exposed in this period of crisis: many companies are in danger of survival. Let us think of the increase in costs. respect all the environmental directives imposed on us by Europe, but assume responsibility for territorial consumption: by consuming local products, we reduce pollution – caused by transport – and accentuate seasonality, generating an economic return on the territory. canteens".
Without a doubt, agricultural producers are going through a difficult phase: how do you help them?
"We must first obtain exemption and flexibility measures from the government: we have asked for the moratorium and the restructuring of mortgage loans with state guarantees and cost control interventions, for example on agricultural diesel, to the issue of waste water from livestock to cope with the increase in the cost of fertilizers, since most of them are imported from Russia. This is not enough: we must review and postpone the next CAP (common agricultural policy), because now is not the time to invest in improving environmental standards, which remains a noble objective should not be cancelled. But today, you need cash, you have to give companies the "fuel" to stay on their feet. All costs have increased. The government has taken an initiative, we are certainly trying to do our part, but we need a Community regulatory framework to be able to deal with the emergency".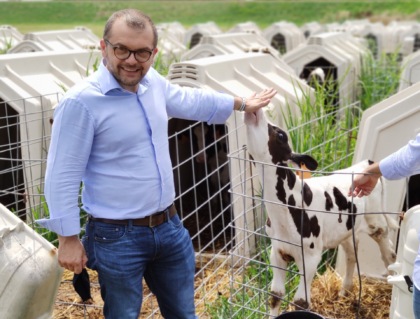 In addition to the pandemic and the war, there is another emergency: African swine fever. Does it also affect us directly?
"Absolutely yes, swine fever is a disease that cannot be cured and for which there is no vaccine. The commercial impact is very violent, because it forces us not to export even a salami beyond our borders. Lombardy accounts for 54% of the pigs reared. in Italy. , so this disease for us involves incredible damage, which we must avoid. Unfortunately, there are bureaucratic delays from this part of the Ministry of Health, to date no wild boar eradication activities have started in the infected areas, fences have not started and the designated commissioner for the emergency has not started. does not yet have effective powers".
We are all called upon to do our part to enhance the territory and rediscover nature, even in urban centres. The last examples you promoted were Custodiscimi and CiliegiaMi, just outside Milan.
"Today, in urban and metropolitan areas, there is a great attention to greenery, a strong awareness that greenery makes life better. Nearby educational solutions and experiences of urban cultures are chosen, which allow two advantages: the first: they guarantee a higher income to the producer and savings to the consumer thanks to direct supply, skipping the steps from the producer to the consumer, with a greater knowledge of the origin of the food. second: agriculture provides experiences, especially in urban settings, educational experience and outdoor life.These will grow agriculture and also marginal urban areas which, through agriculture, can regain importance and vitality".